To join the club and continue receiving newsletters please email Here or email ronankerr@lotusclubireland.com.


The Lotus Position - review of our last trackday on 7th September 2012 at Kirkistown

Colin Chapman, the creator of Lotus, had a simple design philosophy – "simplify and add lightness". And while his business mantra seemed to be "complicate and lose money" (including an alliance with our very own DeLorean cars in the mid 80's) Lotus have created some of the most trackday friendly cars ever, from the famous Seven to the fleet of Elise/Exige variants which enjoyed a Lotus Club Ireland (LCI) trackday at Kirkistown last week.

The mid 90's Elise design was very radical for a road car, and hailed as a true return for form for the Norfolk manufacturer. Rather than a traditional chassis and body, the Elise was created around lightweight aluminum tub (much like a F1 car) to which the engine and complex suspension bolts. And rather than being wielded together, it was glued!

All this resulted in a car which was incredibly light, incredibly rigid… and incredibly rapid around a track despite it's humble 118bhp Rover K Series engine. And, as more and more owners took their cars on track, Lotus responded with even more track focused Exige variant, which boasted more power, more brakes… and a little 'Mohican' airduct on the roof!

And seeing the Kirkistown paddock full of Loti in the blazing sun, one thing quickly becomes clear – no two Elises or Exiges are the same.

The LCI members run a number of trackdays every year, and most owners have tweaked their cars to make them a little more track-focused. The most common modification is adjustable suspension, so the legendary Lotus ride can be maintained for the road but stiffened for the circuit. But beyond that, anything goes; cars here today range from standard series one Rover cars to the later Toyota 1zz and 2zz models, some with VVTi, some with superchargers, and a few with complete Honda Type R engine transplants.

But whatever the powersource, it's the corners where all the Lotus cars excel. The lightweight design means late braking and precision handling, the cars blipping down through the gears before launching through the hairpin. But it's the pace their mid engined layout allows them to carry through the corners which really sets them aside from the more usual trackday steeds.

In looks and technology these LCI cars might be a long distance from the first Lotus Seven's of the late 50's. But in spirit, they are one and the same. As Chapman said, "If you add power, you can go faster on the straights. But if you add lightness, you can go faster everywhere". And Kirkistown certainly saw that last week!

Value for money was the order of the day for these brake pads




I think he is cutting the chicane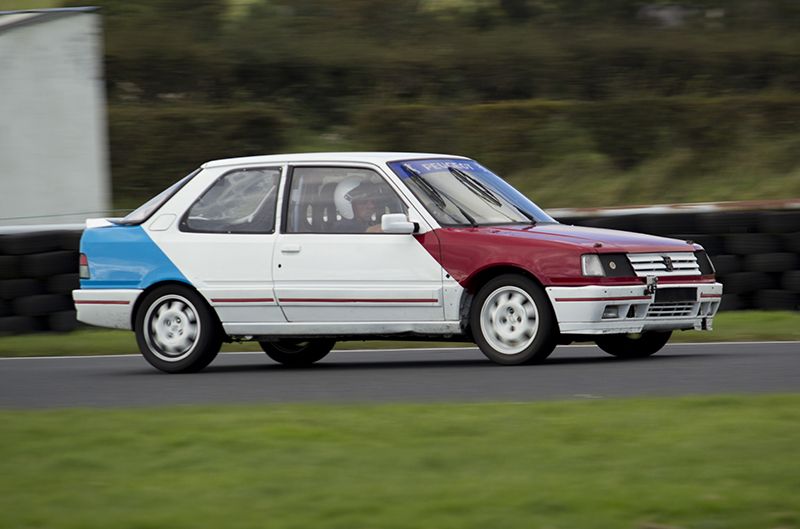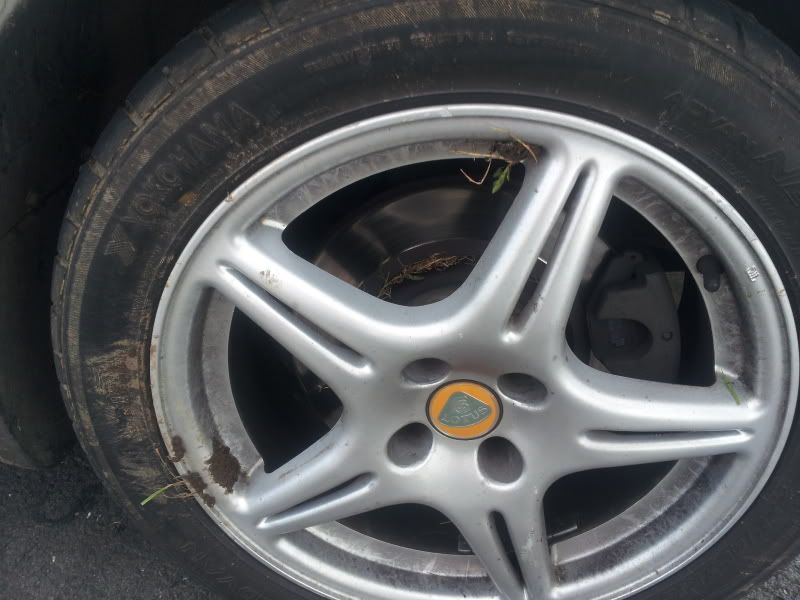 It is always sunny at Kirkistown





Lotus Club Ireland Track Day Friday 30th November 2012 at Kirkistown

To be held at Kirkistown, all welcome. Free cooked breakfast and Lunch.

Details as usual:

1. Friday 30th November 2012.

2. 160 Euro for members.

3. Free instruction.

4. Free food inc a full cooked breakfast, steak lunch and free refreshments/tea/coffee.

Free track day orientation.

Usual food and beer that evening contact the club for details, nice 4 star hotel at £63 each!

Start time 9.00am

Convoy leaving from Dublin airport @ 6.45 am

Only 30 places as a limited day to give total free lapping and quality track time.

Again most likely to be one of the best days this year

If you wish to take a spot or to join the club please click Here

Or you can reserve a place please email Here or email ronankerr@lotusclubireland.com.



Watch the Lotus Club Ireland crew getting interviewed for Motors TV click here





Damn! That car is faaaaaaaaaasssst!




The motto of the Boy Scouts is "Be Prepared".

Clearly, Baden Powell preferred hanging out with young boys to owning a Lotus, otherwise he'd know his catchphrase was full of cow poop.

And, ironically, I was prepared for this trip. A complete set of new Yokohama A048's for the trackday (booked, plus instruction). A tweak to the map for easier running in traffic for the trip. A tent, an inflatable mattress, a lantern, a couple of new hats (for the guaranteed sunshine). I even pumped in delicious new fully synthetic oil. About 2 miles before the white smoke started billowing from the exhausts.

Yes, despite a repair on the head gasket less than 11 months ago, it was gone again. So this time, with less than a week before the boat sailed for Snetterton, I sent to a real specialist who actually knew what they were doing with a K Series.

Cutting a long story short, the car hit the road on Tuesday afternoon, fully functional but with a suggested rev limit and running in period. With mixed emotions, I had cancelled the track evening, but at least now I could (with one eye on the temperature guage) make the trip.




But next morning was excitedly pulling off my roof and slathering myself in suncream. The sheer pleasure of the smooth Welsh roads, the blue skies, the stereo turned up and the convoy of Loti following pathfinder Dubs in Chicki's MINI was worth the initial hassle alone, although I felt a little left out with a 4000 rpm max as the rest of the cars downshifted for the tunnels though the mountains.

We pulled in for petrol on the M6 toll road, and met Buchos on the way home with his sexy looking Elise to Exige conversion kit; I think both parties were equally surprised to run into each other.




When we arrived, the campsite was really only a field with a few tents in the corner, allowing us to park the cars and create an enclave. Patmb arrived shortly afterwards with the huge easy-up tent, which proved to be our salvation for the next few days. We just had time to set up camp before it was signing on for the Lotus On Track evening.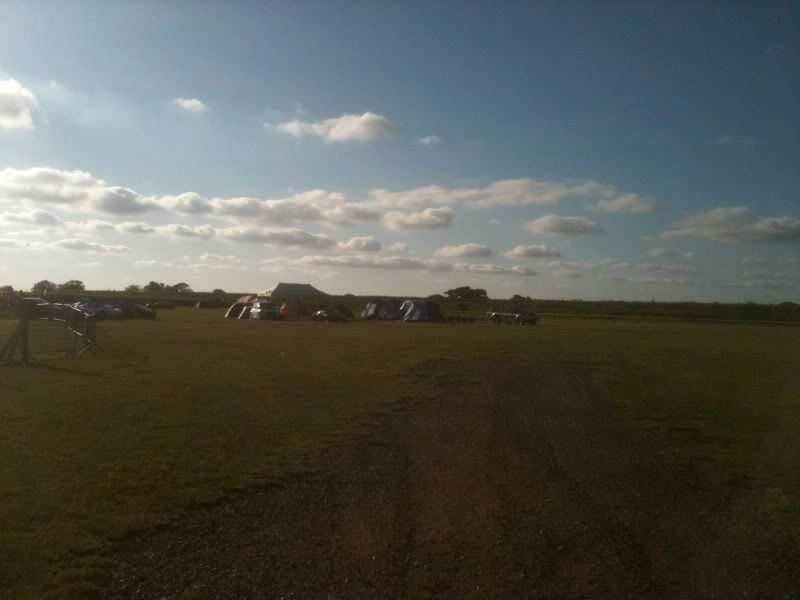 As I was a mere PAX-er (and, in fairness, a performance detracting weight) I'll leave it to one of the drivers to write up a few impressions of the track; everyone seemed to be having a great time, and it was interesting to see the road cars which had just made a long trip holding their own with the production racers on track. One disadvantage of the shorter track time (5.30 – 8pm) was that a couple of leaking cars closed down the track for long periods while oil spills were dusted with cement.

Once the track closed, thoughts turned to beer and food. A raiding party was sent out to the local Sainsbury's, and returned with enough burgers, baps and cheese to feed an army. (All were gone within the hour). And beer/cider/wine. (Those lasted until the early hours of the morning). With the camp site pretty much our own, Hag turned his car into a portable stereo outside the tent, and we spent the evening toasting ourselves, our cars, the track, the burgers, the beer, the racing to come, and the weather.

The last one was a mistake.

On Friday morning, things looked bleak in the camp. The hangover's were bad, but the grey clouds surrounding the circuit were worse. Patmb was out for practice laps, but beyond that little was scheduled for the day. We did another run to Sainsbury's, and, with that out of the way, the drinking commenced, huddled in the big tent with the barbeques glowing for warmth.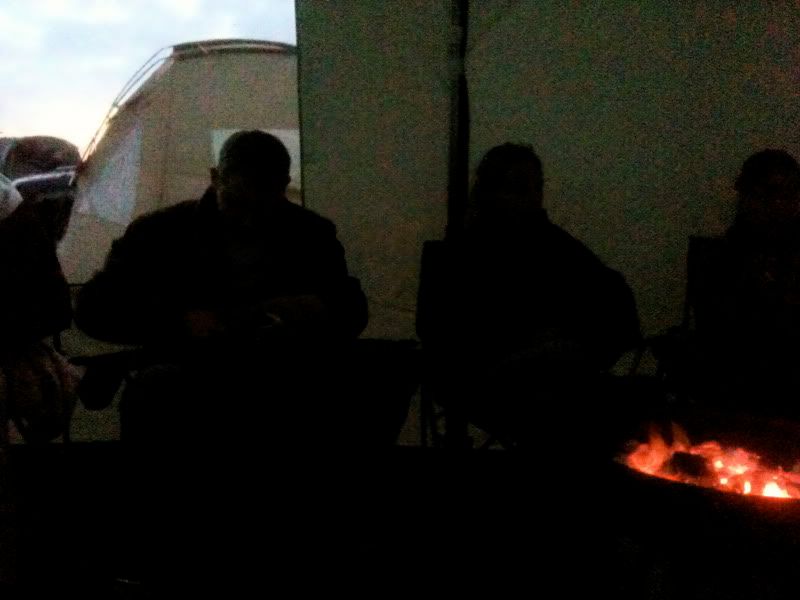 In fairness, once my mindset flipped from "weekend of racing with some boozing" to "weekend of boozing with some racing" all was well with the world. Keeping warm as the darkness descended proved the biggest challenge, especially for Dimitri who – believing the weather forcast – had packed mainly shorts. More people were arriving and the prominent position of our tent, coupled with lots of people huddled in official-looking LCI jackets meant we soon became a port of call for most new arrivals. It would have been wrong to abuse such a position, and people who had begun drinking around noon would never have done such a thing.

I seemed to become the chef by default, and found myself quite enjoying it. In a drunken haze we assigned ourselves positions within the McBennett Motorsport team, but thanks to the miracle of the 8.2% cider I'd bought in the supermarket, I can't remember any apart from Lol doing logistics and Ducman being the fluffer. I'm sure someone will post the full team details later.

There was no real 'official' entertainment on the Friday evening, so the bright lights and sounds of the Irish tent drew the braver UK campers like moths to a flame.

We met some great people, united with a love of Lotus – Jimbo, who worked for the company and kept us enthralled with development stories (and who – when given enough cider – started to give us hints of future launches. These, of course, were most likely untrue, but we didn't care as his father rocked up in the family Evora), a guy who piloted hot air balloons for a living (with these vague descriptions, it's possible to ascertain that drink had been taken for many hours), and some other people who we entertained/scared, especially when we started playing with fire (a theme of the weekend) and cooking a snack at 3am.

Saturday began badly. The wind was pushing in the walls of my tent and the rain was battering off it. Mind you, it was at least a little warm inside, so it took a lot of effort to crawl out and help Dubs tidy the big tent, which was looking like a crowd of people who had been drinking steadily for 12 hours had wrecked it… which was pretty much true. Firing up the camping stoves and cooking 24 rashers soon drew campers from tents, and we finally got to watch a little racing in the rain.

I'd been promised stands of bling so chromy and shiney I would simply hand over my credit card and take it all, but I was disappointed tbh ™. Elise Parts.com and Elise Shop.com where both present, and I had secretly hoped they might fight it out, beating each other with carbon fibre add-ons until only one remained, but all was good natured. The queue for the catering was immense, so I headed back (with merely a fancy gauge holder) to start on lunch. Others were less stingy than I, however, and began making their way back in full Lotus regalia, some so bedecked in the logos that there was a possibility they might have Lotus undies too. Cathaloc and his sis joined us with a jeep full of helpful camping accessories, such as a table and a barbeque which didn't sit flat on the ground.

Saturday night was the evening where (finally) the other campers decided to join in our constant revelry. Dubs ended up working the door, and we had some fine examples of all that makes the Irish Sea a good thing, the prime edjit of the night coming in asking if we'd been to Elise on Track races before, and – when a few replied "yes" he actually asked "Do you not know who I am then ?". Shortly, we did know who he was – the first asked to feck off from our tent and never come back ?

Other disturbing moments of the night included the Seloc members who dressed in head to toe spandex suits (camel toe on a man is very unnatural), Dubs playing with fire again, managing to send sparks flying in one direction onto my car, and another onto my tent and an incident involving a very drunk man being hosed down by the ambulance service.




We actually got to see Pat's race, and the parade laps of the historic race cars were brilliant, the speed and noise building as the years progressed.




A tour of the cars in parc ferme, a spot of prizegiving… and it was all over, bar the unpacking. It was a little scary to see that we were the first in and last out, and I was a little sad as the easy-up tent which had been our saviour of the weekend went down and back into Pat's pickup.




We were the first to arrive, and practically the last to leave




The weather gods turned the knife a little more, upping the temperature more as we left the circuit and made our way to a hotel in Coventry, where 2 for one offers abounded. For folks used to Irish bar prices, the concept of every second drink being basically free was nearly too much to take. As was the concept of the bar closing at 10.30pm. Hence many orders of "2 pints and four bottles of Corona", which, with a 8am start for the boat may not have been the wisest of plans.

My desire for a real bed with a bathroom en-suite and not en-the-end-of-a-field-in-the-dark-and-cold overcame my desire for more beer, so along with OI and Dimitri I was the first to retire. Sitting down to breakfast was like watching the walking wounded come it, Ducman bereft of his natural noise/exuberance, Phiny deathly pale, Dubs frightened and confused, Chicki, Lol, Hag, OI and Dimitri not too bad, AFE like a fry-eating zombie and Patmcb and Jill wisely in a different hotel.

But despite the LCI crew being under the weather, the final stretch of the journey was made as it had been before – roof off, in blazing sunshine.

In a way, being prepared is only part of an event like this. Some of the best times were totally ill-prepared, just moments where a gang of like minded people got together to blather about cars, life and all points inbetween. So sort of like a reality-based version of Octane, then.




Would I do it again ? Yes, for sure. Perhaps the rain and winds made for a different weekend to expected, but within the tent we ate, drank, smoked and laughed our heads off for three solid days. No one got stabbed, no one got slapped, no one got on each other's nerves and all the cars which set off make it home again.

Which is pretty good for a Lotus festival, don't you think ?


Recent events: ALMC Motor Show Sunday 19th April / Donington Park Lotus On Track day and Elise Trophy race weekend 17th to 19th April.

ALMC Motor Show – Sunday April 19th

Road-going supercars from the 60's to the present day line up alongside iconic rally cars and track racers in a unique exhibition hosted by ALMC Motor Club, at City North Hotel on Sunday 19th April.

Entry is free, and all the family can get up close to famous marques such as Fiat/Abarth, Lancia, Ford/RS, Subaru, Mitsubishi, AMG, BMW, Porsche, Ferrari, Lamborghini, TVR, Lotus, MGB, Mini … many of which have never been on show before in Ireland!

The high point of the show will be a raffle with incredible motoring prizes, with all proceeds going to the Jack & Jill Foundation. Books of tickets are available on the day, or in advance from this very website, and prizes include :

More information can be found here at the ALMC Website.

Donington Park Lotus On Track day and Elise Trophy race weekend 17th to 19th April.

A number of members are travelling over to Donington Park to take in the first race weekend in the Elise Trophy series. Friday the 17th is a combined test and track day. With road going cars and race cars out in separate sessions. Some members are taking part in the track day and then transferring to become pit crew for the rest of the race weekend for the two Irish cars competing in the racing.

Taking part in the series this year are committee members Connaire Finn and Pat McBennett. Connaire had great success last year in an undeveloped car jsut missing the podium coming 4th at the Brands Hatch round. Hopes are high for a podium position this year.

Pat is new to the series this year having recently purchased last years series winning car and is hoping that some of his race winning success in the Irish Saloon Libre series will transfer to the Elise Trophy series.

Lotus Club Ireland Track Day May 8th Kirkistown Race Track

Following on from the great success our March 20th track day in Kirkistown; we are pleased to announce a return to Kirkistown on May 8th from 9am to 6pm, so lots of track time again. This track day is open to members of Lotus Club Ireland. It will be possible to join the club on the day.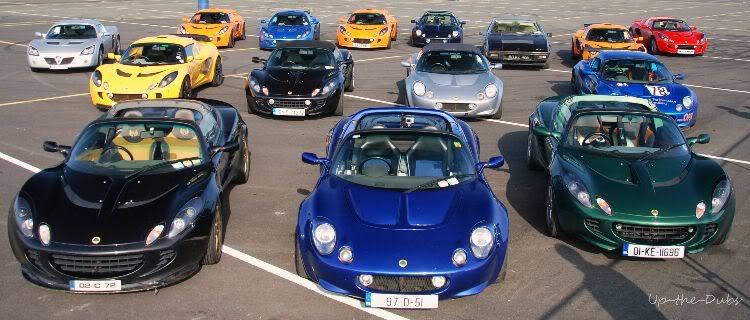 The cost will be €160 for existing members and €185 for new members. The extra €25 for new members covers the cost of joining Lotus Club Ireland for the year. Membership is not restricted to Lotus cars but open to all types. The cost covers car and driver. Additional drivers and/or passengers are €20 extra.



Included in the price is as follows:

1. Free breakfast on arrival at the track including- cereals, fruit, hot breakfast, tea, coffee and fruit juices.

2. Free sighting laps for all new people to the track with our own instructors in a new BMW M5 & supercharged range rover & Porsche GT3.

3. Open pit lane all day long.

4. Free instructors (X 3) for anyone who wishes to upgrade the driver.

5. Free lunch including minerals, water, tea, coffee.

6. Free refreshments all day long i.e tea, coffee, minerals, water.

7. Free mechanical support.

8. Free set up & handling advice from O.P.H.

9. Supply of 20 litre jerry cans of fuel so people can top up late in the day, (mind you some people ran out before lunch due to the amount of track time available )

MAXIMUM 35 DRIVER PLACES AVAILABLE TO ENSURE HIGH AMOUNT-QUALITY TRACK TIME.

As you can see this AGAIN offers fantastic value, which we are very conscious of in these credit crunch times. As such we are trying very hard to make these days the best value for money and best track day experience possible.

We would also like to put a very large emphasis on welcoming passengers and people who just want to get pass laps in some very special cars to sign up to come along (50 euro including L.C.I. annual membership). You don't need to have a Lotus to join the Lotus Club Ireland, or to attend or drive as everyone and every brand of cars are more than welcome!

We have also secured a deal with the Strangford Arms Hotel for rooms @ 50 pounds for a single and 70 pounds for a twin, we will all be heading back here again for a meal and a few pints after the track day.

Join the discussion and more details here